Join Us on Saturday, September 8, 2018, from 10am to Noon
 Everyone is Invited to attend this free event – Bring a friend

Fall Kick-Off Meeting & Brunch 
This year, our kick-off meeting's key presentation is by Meena Palaniappan, about technology innovations that help communities counter the often devastating effects of extreme weather events.
Founder and CEO of ATM Connect, Meena will speak about her journey as an environmental engineer and technologist, and her success at implementing community-based technology projects in the developing world for nearly two decades.
ATMA Connect builds resilience in low-income urban communities by creating solutions to empower users by sharing local information.  Based in Oakland, ATM Conncect was founded as a non-profit in 2014.  You can learn more about their work at:   www.atmconnect.org
2018 Tech Trek Girls
The meeting will also include an appearance by our 2018 Tech Trek Scholarship students.  We sent these eleven wonderful girls to Tech Trek camp at Sonoma State University
June, 2018.  The Oakland-Piedmont AAUW branch (and friends) have been sending local middle-school girls to Tech Trek camp since 1998.
Meet with them individually to learn about their experiences during this year's week-long STEM program at Sonoma State University.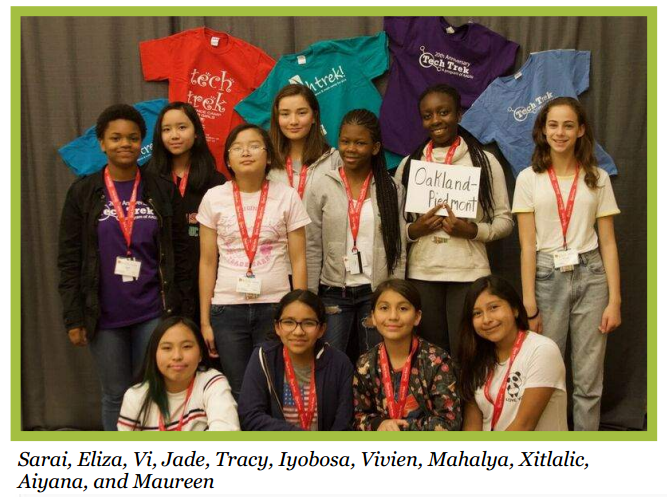 Brunch:  A buffet of savories, sweets and beverages will be provided during this event.
PROGRAM
9:30 – 10:00 Mix & Mingle
10:00 – Welcome
10:20 – Meena Palaniappan, Founder of ATM Connect
11:00 – Tech Trek
11:30 – Interest Groups & Announcements
Date:           September 8, 2018,
Time:          10:00am to Noon
Location:   Richard C. Trudeau Training Center . . . . . . . . . . . . . . . . . . . . . . . . . . . . . . . . . . .  . . . . .  .  .  .  .  .  . 11500 Skyline Boulevard, Oakland
Cost:            Free to attend