Saturday, January 19, 2019
Join us for this year's Oakland Women's March!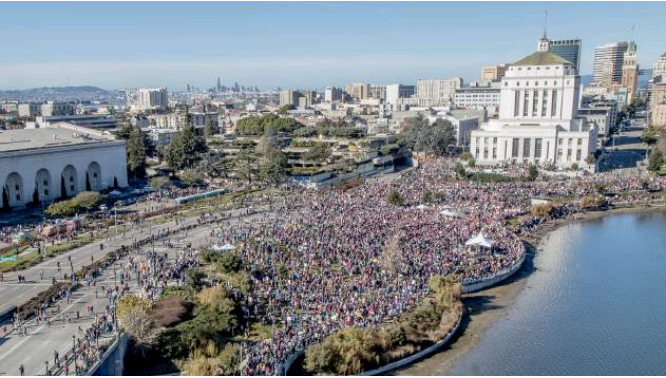 Start the year off on a high note!  Join us and other local  AAUW branch members to march from Laney College to the Frank Ogawa Plaza in downtown Oakland. 
We will gather in front of the Student Center at Laney College at 9:30 AM and walk together carrying AAUW signage.   At the end of the march, the Interbranch Council of the AAUW will have a booth where we can share information with marchers about our mission.
So don your pink hat, and bring your family and friends to join us!
Unable to walk the route?  Come to Frank Ogawa Plaza to visit our booth and to hear this year's speakers.

Date:  Saturday, January 19, 2019
Time & Location:  
TO JOIN THE MARCH

:  Meet up at 9:30am at the Laney College Student Center. 

TO HEAR THE SPEAKERS:

  Go to the Frank Ogawa Plaza at 11am.  Our booth will be open from 11am to 2:30.
About Us
The American Association of University Women (AAUW) is a national organization that promotes equity for all women and girls, lifelong education, and positive societal change. Our commitment to these issues is reflected in our activism. Our branch has more than 90 active members; we meet regularly as a group for programs of common interest and also in smaller interest groups. Many lifelong friendships are forged through the activities of the branch.
It's quick and easy to join AAUW Oakland-Piedmont! Click here to access our membership form.

Aileen Rizo: Blazing a Trail for Equal Pay

What would you do if you found out that your male co-worker made a lot more than you?
In in 2012, Aileen learned that her salary was lower than a co-worker with less experience and less education – based solely on her prior work history in a different state.  For the past six years, she has worked tirelessly on the quest to make "Equal Pay for Equal Work" a reality.
Rizo v. Yovino
Her landmark case raised the issue as to whether prior salary histories have perpetuated the gender pay gap.
Rizo resisted – and persisted – causing change to California's Equal Pay laws and winning her federal case against her employer!
She's become a familiar face in Sacramento, testifying in support of legislation that has been enacted to ensure that previous pay is no longer a determining factor when setting pay for a worker.
California is now one of six states to ban the use of salary history when negotiating a worker's compensation.
Rizo's lawsuit, Rizo v. Yovino, has led to a Ninth Circuit Court of Appeals full hearing and decision in April that, under the Equal Pay Act of 1963, employers cannot pay women less than men just because of a previous job's salary.
Her attorney in the federal lawsuit is Dan Siegel of Oakland and her case has received financial support from the AAUW Legal Advocacy Fund.
As Rizo worked with advocates on the Sacramento legislation, she learned that her member of the Assembly consistently voted against the bills she was favoring.
She is now a candidate to replace him. Rizo's story was featured on the New Republic blog July 19, 2018 and in the August issue of Harper's Bazaar.
You can read more about her experience and court case at:
https://www.aauw.org/resource/rizo-v-fresno/
The AAUW Legal Advocacy Fund supported Rizo in her lawsuit.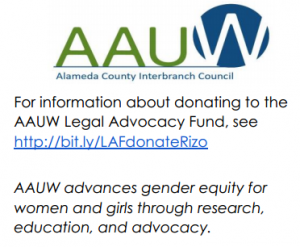 If you'd like to support AAUW's efforts to obtain equality for women & girls, you can donate to the AAUW Legal Advocacy Fund at this link: