Meet Rita Gardner, the author of the award-winning memoir, The Coconut Latitudes, at the Rockridge Public Library on Saturday, May 20th at 11am.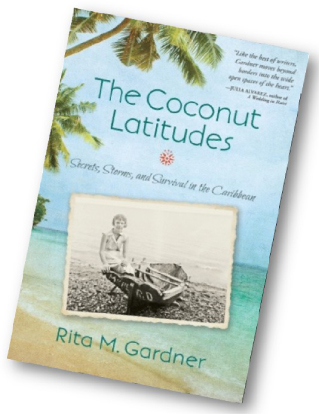 The Coconut Latitudes is a heartbreaking account of her family's life-changing decision at the end of World War II to leave the United States and start a coconut plantation in a tropical paradise.   Far from being in the envisioned Eden, they found themselves in the path of hurricanes, in the grip of a brutal dictator, and on the way to a family crisis that changed their lives forever.
Rita will share the story of how she came to write her memoir, and read a few excerpts.  She will also provide some insight into the writing and her path to publication, and will be happy to entertain questions.
The event is free, but please register to reserve your place at the EventBrite link below.

Rita M. Gardner is a writer, photographer, and painter.  She grew up in the Dominican Republic during a repressive dictatorship, and wrote The Coconut Latitudes, an award-winning Gardner's memoir of that experience.  Gardner is also a contributor to two other nonfiction books published in 2016, The Magic of Memoir and Wandering in Andalusia.
Gardner's essays, articles, poetry, and photographs have appeared in literary journals, travel magazines, and newspapers. Rita lives in Richmond and still follows her childhood passions — writing, traveling, hiking, and photography.
Date & Time:  Saturday, May 20, 2017, 11am to 1pm
Time:  11am to 1pm
Location:  The Rockridge Public Library at 5366 College Avenue, Oakland, CA 94618
Cost:  Free
RSVP at: Eventbrite