AAUW California Public Policy Priorities 
Click on the links below to find out more about each goal.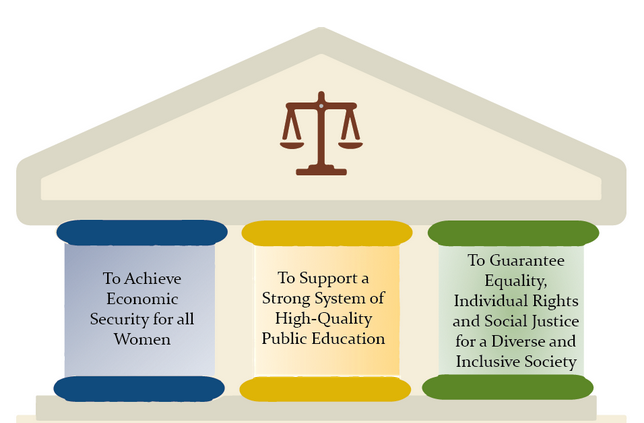 Economic Security for All Women
A Strong System for High-Quality Public Education
Equality, Individual Rights & Social Justice for ALL

Pass Paid Leave: Support the FAMILY Act
When it comes to paid leave, the United States stands out – and not in a good way.
Unlike the majority of developed countries worldwide, the United States does not guarantee paid annual leave, paid time off for illness or family care, or paid parental leave. And for many Americans, this unpaid time off work is untenable and it threatens their economic security.
The 116th Congress must take steps to provide greater support to American workers trying to meet the demands of work and life. That's why AAUW is calling for passage of the Family and Medical Insurance Leave (FAMILY) Act, which would create a national self-funding paid family and medical leave insurance program.
Women disproportionately bear the economic opportunity cost of providing care for children or elderly family members, or doing things like taking them to the doctor. Yet many women delay seeking health care for themselves because they cannot take time off work, affecting their abilities as employees and primary caregivers. Paid leave not only improves health outcomes for parents and children, it means women don't have to choose between their family's health needs and their job.
AAUW is committed to advocating for the rights of workers and promoting the economic, social, and physical well-being of all people.
Congress must be too.  Contact your representatives today!

About Us
The American Association of University Women (AAUW) is a national organization that promotes equity for all women and girls, lifelong education, and positive societal change. Our commitment to these issues is reflected in our activism. Our branch has more than 90 active members; we meet regularly as a group for programs of common interest and also in smaller interest groups. Many lifelong friendships are forged through the activities of the branch.
It's quick and easy to join AAUW Oakland-Piedmont! Click here to access our membership form.